A war torn warrior repaired by dwarven engineers, the veteran can take untold amounts of punishment and can charge up for powerful attacks.
Clockwork Veteran

Some attributes

First
Race: Human/Machine
Second
Sex: male
Third
Range: Melee

Other attributes

Fourth
Weapon: Mace-arm
Fifth
Special Unit: Clockwork Defender
Active Skills:
| | |
| --- | --- |
| | Take reduced damage while charging up for a powerful electrical discharge. |
| Clockwork | Continuosly stack damage and armor bonuses every 10s for a 50s duration. |
| Breaker | Hit enemies in an area, reducing their damage for a duration. |
Passive Skills:
| | |
| --- | --- |
| Rush | Take less damage and knock away enemies while running. |
| Twin Pistons | Basic attacks have a chance to hit multiple enemies and/or stun. |
| Wind Up | Stand still or run to charge (1 charge/s), attack to discharge. Charge for 5s for an extra powerful attack. |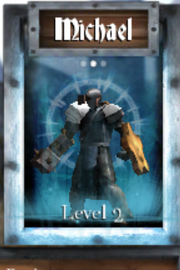 Michael sacrified his body for his brother, Burion, years ago. Burion was destroyed by the sacrifice but Michael fights on with a renewed sence of purpose.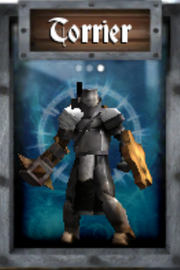 Horribly disfigured from a deadly wound caused by the Witch Blade of an undead champion. Torrier worked for years repairing himself and improving his once feeble body.