A stalwart Dwarven general with a powerful, but slow firing ranged cannon. Focuses on strong defenses.
Engineer

Some attributes

First
Race: Dwarf
Second
Sex: Male
Third
Range: 700

Other attributes

Fourth
Weapons: Rifle
Fifth
Special Unit: Dreadnought
Active Skills:
| | |
| --- | --- |
| | A powerful shot that does unpredictable damage, and blasts throught enemies. |
| Fortify | Your buildings take no damage for a period of time. |
| Artillery | Instantly summons a catapult to the battlefield. |
Passive Skills:
| | |
| --- | --- |
| Salvage | Each enemy killed has a chance to give you an extra 5 gold. |
| Craftsman | Decreases the cost of Walls and Towers. |
| Brotherhood | All dwarves gain extra damage. |
Wearing the signature iron horns of Kraggnar, Burlock owes his allegiance to the King after his aid in repelling the Goblin Lord Snirtip.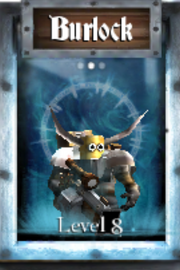 Having lost his eye and arm in a deadly battle against the Orc Cheftain Skull Crusher, Fulgrim is stronger now that he was before with his metal implants and heavy armor.