An offensive, nimble footed Elven Ranger focusing on powerful long ranged, skill based attacks. Summons a giant Treeman as his special unit.
Ranger

Some attributes

First
Race: Elf
Second
Sex: Male
Third
Range: 2000

Other attributes

Fourth
Weapons: Bow & Arrows
Fifth
Special Unit: Treeman
The ranger gains +3hp, +3* damage, +0armor, +.3s run, and +1%critical per level.
At level 99 (before adding SP) you will have: 1005 Hp
10055
Damage (max damage is 100 for ranger)

100
Armor
31.7s Run
100% Crtical  (by level 96)
damage goes up by slighly more than one, between 1.25 to 1.5
Active Skills:
| | |
| --- | --- |
| | All of Ranger's shot will shoot straight, and can shoot through multiple enemies for a time. |
| Hunting Trap | Places a trap on the field that hurts and stuns enemies that walk over it. Has a 3s setup time. |
| Elven Arrows | Archers and Arrow Towers are upgraded with Elven Arrows for 20s, giving them bonus damage and range. |
Passive Skills:
| | |
| --- | --- |
| Spread Shot | Gives a chance to shoot 3 arrows in a spread. |
| Marksman | Your arrows deal extra damage the further away a target is. |
| Brambles | Enemies that are hit are slowed for a time, with a chance to be stunned. |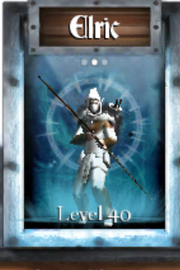 Once a great Ranger of the Delthorian wood elves, Elric now resides in the arctic Northlands after being exiled for a crime he did not commit.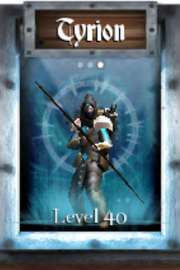 A legendary Elven Ranger, sent by the High Elven Council to assassinate Nogoth many years ago. He is still pursuing him.